24/7 House Calls - Alternative to Urgent Care - (310) 849-7991
If the prospect of going to a crowded urgent care for medical treatment is an unattractive prospect, consider the services of House Call Doctor Los Angeles. High-quality, personalized health care is delivered straight to your door through Dr. Michael Farzam, founder and CEO of House Call Doctor Los Angeles. In addition to letting you bypass the annoyances of an urgent care Encino waiting room, House Call Doctor's physicians offer more thorough medical treatment at a less expensive cost.
Plus, House Call Doctor Los Angeles can treat the exact same illnesses that any urgent care Encino facility can, from acute illnesses, colds, and influenza to sprains, strains, and injuries. Tests, injections, and vaccines are also on hand, as is more thorough testing equipment for x-rays, ultrasounds, EKG, and more. In fact, Dr. Farzam can treat practically any non-life threatening problem there is. If you're unsure, simply give House Call Doctor Los Angeles a call.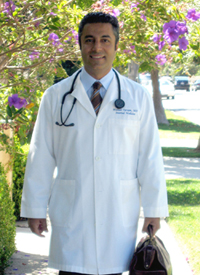 Comfortable Concierge-Style Medical Treatment
A city as affluent as Encino can certainly value high-quality at a great price. It's time to skip the urgent care, Encino residents! After all, what could be more luxurious than a home visit from a board certified physician? You can rest in the comfort of your home as the doctor comes to you. House Call Doctor Los Angeles typically arrives in under an hour and spends as much time as needed with the patient, which is 45 minutes on average.
House Call Doctor Los Angeles also offers medical services on a concierge-style annual basis. For a one-time annual fee, Dr. Farzam can always be on call, providing the same top-notch medical services anytime you need it throughout the year.
24/7 Care Anywhere in Los Angeles
Dr. Farzam will come to you no matter where you live in the Los Angeles metropolitan area, a valuable and important alternative to urgent care from Redondo Beach to Woodland Hills. House Call Doctor Los Angeles' medical services are also available for offices for those who don't have the time or leave available to visit an urgent care in Bel Air, Pasadena, Malibu, or anywhere else in the city. Give the House Call Doctor Los Angeles a call today at 310-849-7991.